Back in Trophies VIII I mentioned that I had ordered 150 ping pong balls to cast in concrete.  Well, they arrived and they would never have been any good for ping pong – wrong plastic and internally lumpy so they have little bounce and that bounce is highly unpredictable!  So, some have been used.
I made a hexagonal column out of some "waste" ply and Phil in the joinery department kindly put a 60 degree chamfer on one long edge of each piece.   Top and bottom drilled out for fixing and pouring.
Balls stuck together with superglue and 1/2s and 1/3s made to fill out the form.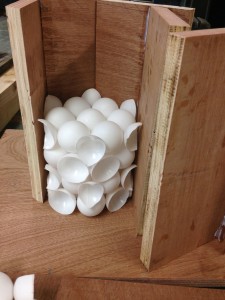 So it all started coming together yesterday but I had only made a rough estimate of how tall the hexagon would be; I hadn't stuck enough balls together.  "Never mind", I thought squeeze some on top….
… and screw the lid down – a bit of compression should help with the enlarging the "kiss" points between the balls.  And then I did my calculations about how much concrete to make – work out the full volume and the void volume for the concrete is a percentage of that – simple BUT I did not allow for 1] the fine concrete powder fitting into the gaps between the sand grains and 2] that the part balls might fill with concrete.  Consequently, I was short of the lid by about 1/2 a ball's depth!  Lots of banging of the form to get rid of air bubbles and get the concrete to flow between the balls.
This morning, when I opened the top, it was clear that a lot more time was going to be needed before I could take off all the shuttering and work on the concrete as it was sticky like barely cooked cake mix.
You can see where I've removed three balls that the kiss points are relatively large and that should help when I try to remove the ping pong balls.  There is a further downside to how I have managed the pour and that is by releasing the pressure of the lid today, the balls can start to expand putting the concrete under tension, which it will not like and so it may all pull apart before it has set – we'll know how well it's gone before Easter.
What next??  Cheers, Vincent