Someone said to me shortly after I started on the course that I should do stuff other than the projects or I might lose my sanity.  So, here are two extra-curricula pieces.
Jill has just completed a lovely embroidery on velvet and, like other pieces, it seemed worthy of a frame designed for it.  I thought that a shallow D section would be best and relied on a piece of handrail, which the sawmill at Howarth timbers, kindly ripped – as you can see.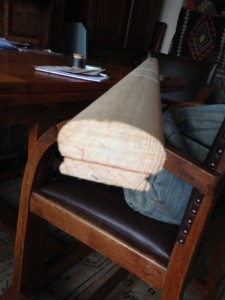 Then, with the help of a friend and a table saw, we ripped two grooves up the back of the length: One as the stop for the rebate to take the embroidery and the other to make it easier to take out the wood later – as you will see.  I couldn't take the wood away until the mitre corners had been cut otherwise the timber would have tipped during cutting and thereby screw up the alignment of the mitre joints.
Now you can see the embroidery and working out how and where to do the cut for the bit that sticks out.
Here, I must pay tribute to Chris & Carrie who produce wonderful woodcarving videos at  their woodcarving workshops website.  My carving and camera are far behind theirs but here's a clip of making the rebate – sorry my head gets in the way but I Had to see what I was doing [Carrie & Chris should be watched to see how such things should really be done].
Then it was a case of priming, filling, painting ….
… and there is the frame complete.
The other small project is a stamp of JS in a piece of end grain holly [dense and fine grained and from the garden].  Start point was to get the end grain smooth, apply the design, and then get cutting!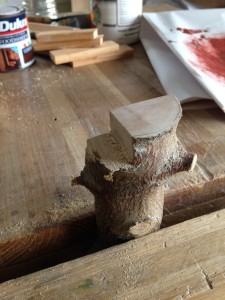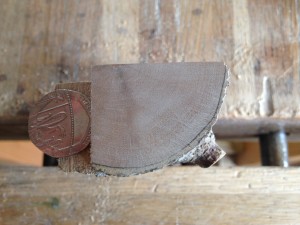 Jill's happy with it but I think the top bar is a bit a narrow.