Some time ago Tim Foster, a wood and stone carver [evening classes at Yorkshire Hut Company], suggested that I should consider making pieces in clay before trying them in wood.  There were two reasons behind the advice, one was that the act of generating the clay model would help iron out potential problems before starting a carving and the other reason was – if you can't make it in clay [a medium where you can repeatedly put bits on and take some off], you won't make it in wood.
I've kept that advice in mind and avoided heads, and more particularly faces, as I struggled with the quality of my attempts.  However, things have changed following a terrific three day class for portrait sculptors organised by the Society of Portrait Sculptors and tutored by Etienne Millner at his studio.
Pre-course instructions were usefully detailed and included included size and materials for a bust peg [the thing one puts clay on to build a bust] – here's mine:-
There were 10 students, probably four were under thirty, and I was the only man amongst them.  Etienne and the Society provided each of us with a wheeled modelling stand [which were adjustable in height and very well made] and Etienne had arranged for Hong to be our model for the whole period. He also generously arranged lunches at his home for those who wanted to partake.
Etienne's studio had been a squash court and had a large roof lights so the space was flooded with fairly diffuse light.  I could have spent ages walking around looking at all the casts of his work sitting shelves [visit his site to see what I mean].
Overall I felt very encouraged by Etienne's method of tutoring [although before the course I was more than a little daunted by the prospect of input from a man who has work in the National Portrait Gallery].  I felt carried along by Etienne's analysis of what I had done, where there were mistakes, which detracted from the work, and how defects could be altered.  Etienne would rotate between students, perhaps clockwise one day and anticlockwise the next thereby giving one time to incorporate his input into one's work.
Hong was a delightful model, so calm, still and unfazed by so many approaches of students with callipers trying to measure this distance or that.  And here she is:-
By the end of Monday my armature and wet clay weighed over 14.5kg and I had the choice of go home with a set of pictures or try and get it home by public transport [Stockwell tube to York] while carrying my rucksack of about 6.5kg.  Thankfully I had pre-planned and had some Instapak RT bags with me [hang over from inventing days] and managed to pack the work in a cushioned fashion in the bag I'd carried the armature in to London.  So, here's the piece before and after travel – only a few scratches, which it should be possible to repair and then cast.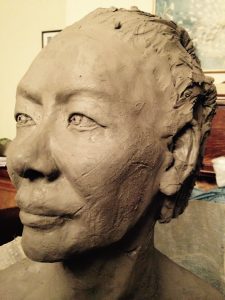 As ever there is still so much more to learn and to practise!