I was inspired by the works of Bruno Walpoth and Aron Demetz, particularly their willingness to accept the splits and twists in wood as it seasons – both have worked with whole unseasoned tree trunks.  I think that using unseasoned tree trunk stops people from looking for a strongly realist work – it will always show that it is wood! I thought I would try too and set about acquiring some tree trunk.
I was lucky that up the road someone was having a seemingly perfectly healthy lime tree felled as there was a large insurance risk if it fell the wrong way!  I heard chainsaws and went in search of their operatives.  Richard Emberton, a partner of Treesaw, was on site and listened to my request.  He kindly dropped off two sections of trunk and they have rested on the driveway ever since.
Then, within the month, another lime tree nearby was being chopped down [this one had rot].  Again, I was fortunate that the tree surgeon, Bob Nut, cut me a section of trunk and, while I got the car, he turned it into a rough cube shape.
Now I have three large pieces of lime and intentions but not enough kit.  My friend, Glen Gears, kindly lent me his petrol chainsaw and his PPE so I could have a go at removing stock from the section Bob Nut provided.
Unfortunately I was incompetent at handling the saw [pushed the bar to hard perhaps], or the chain was bit blunt on one or more teeth on one side, so all the cuts had a twist in them [especially with the grain], and I made some mistakes on where I cut.
Next I was buying my own chainsaw, this time an electric Husqvarna, and their minimum pack of PPE.  However, I had problems with supplier and in the meantime used some of the off cuts for practice with gouges [no model[s], just the idea of faces and bits of same].
With my own chainsaw, I set about taking more stock off the block from Bob.
I also took some wood off with gouges – a bit too much on the right side of the face!  That was back in February and I stopped to get on with some modelling in clay, then go see my Mum, hares in Norfolk, and family in Budapest, etc. But with the beginning of April I started again with carving.  Because I'd been rather too enthusiastic on the right side of the block [there is not enough "cheek" to balance with the other side], I decided to model the left side of the face for practice.
Carving outside in the Sun for the last couple of days has been a joy, surrounded by birdsong, bees humming, and plum blossom dancing in the breeze.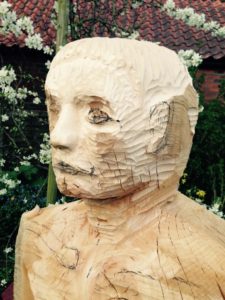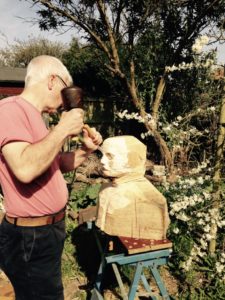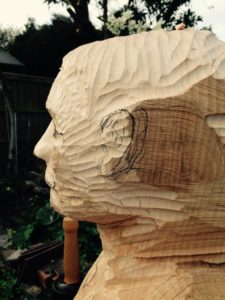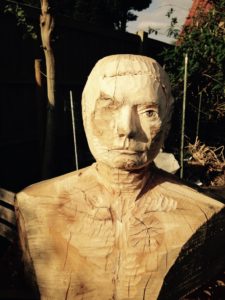 I've now got the choice of push all the timber back on the left side of the face so I can "match it" with features on the right or abandon it.  In it's current state, it  suggested to me  "Bones" in the TV version of "Star Trek", i.e. DeForest Kelly, but that might only be because of the seemingly raised right "eyebrow".  Oh, by the way, the eye is crayon drawn on.
While the weather is good, I think I should press the left side back and try to make a face and use the second portrait cast as a model.